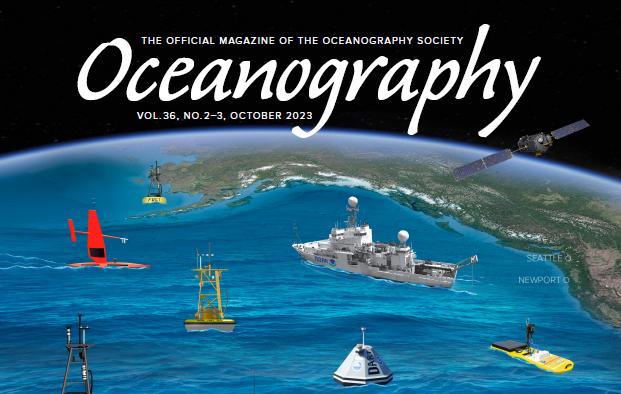 Special issue of Oceanography exploring 50 years of PMEL history and accomplishments. The cover illustration depicts many of the technologies that support research at the NOAA Pacific Marine Environmental Laboratory (PMEL). (Cover illustration with technologies identified)
Oceanography, Volume 36 (2-3) October 2023
Pacific Marine Environmental Laboratory: 50 Years of Innovative Research in Oceanography
Fifty years ago, NOAA created a new environmental research laboratory in Seattle with an initial focus on water quality in Puget Sound, and environmental studies of the Gulf of Alaska and Bering Sea.
Since then, the Pacific Marine Environmental Laboratory has evolved into one of the world's leading ocean research institutes, specializing in observing ocean conditions from tsunamis to changes in climate and ocean chemistry with the aid of innovative instrumentation and measurement strategies often developed by the lab.
To recognize PMEL's half-century of accomplishments, the journal Oceanography has published a special issue with 29 diverse articles which highlight the laboratory's scientific work over the last five decades. The issue provides new perspectives on global and regional implications of ocean acidification and its biological impacts, the influence of El Niño-Southern Oscillation on global weather patterns, and the important role marine aerosols play in regulating climate.
Explore the issue at The Oceanography Society
Read the flipbook version at The Oceanography Society
The cover illustration depicts many of the technologies that support research at the NOAA Pacific Marine Environmental Laboratory (PMEL). (1) Saildrone. (2) Ecosystems & Fisheries Oceanography (FOCI) mooring. (3) NASA's Orbiting Carbon Observatory-2 satellite. (4) Wave Glider. (5) NOAA Ship Ronald H. Brown. (6) DART mooring acoustically linked to a (14) Bottom Pressure Recorder and a (12) profiling crawler, or Prawler, on the mooring line. (7) Papa mooring. (8) Tropical moored buoy. (9) Argo float. (10) Oculus glider. (11) NOAA remotely operated vehicle Deep Discoverer. (13) Hydrophone. (15) CTD-rosette with a (16) Miniature Autonomous Plume Recorder (MAPR) on the wire. Communications satellites (not shown) relay ocean data from many of these platforms to PMEL. Background map by Google Earth.