Outreach Events and Seminars
Interested in a TOUR of NOAA's Pacific Marine Environmental Lab?
Please contact PMEL's Outreach Coordinator, Adi Hanein, and fill out this tour request form. 
Upcoming Events:
Find the Pacific Marine Environmental Lab at these upcoming public events and seminars either on the calendar or the list below. 
Cetacean Society Meeting - Listening for Whales
Saturday, February 10, 2018
10 am - 12 pm
Newport Public Library | 35 NW Nye St., Newport, OR
The event is free and open to the public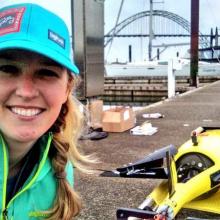 Selene Fregosi, PhD candidate at Oregon State University working with PMEL's Acoustic Program, will give a talk about how autonomous underwater vehicles outfitted with passive acoustic recorders can be used to study the presence, distribution and potentially the abundance of a variety of marine mammal species. She will share how these instruments work, how she is using them in her research, and why they are a good tool for marine mammal science.  
More information here: http://eventful.com/newport_or/events/oregon-chapter-american-cetacean-society-monthly-/E0-001-111091526-5
University of Washington Environmental Career Fair
Wednesday, February 21, 2018
11 am - 2 pm
Mary Gates Hall | 1851 Northeast Grant Lane, Seattle, WA 98105
Join NOAA at the career fair to learn more about opportunities with NOAA. Open to all UW students and alumni, the Environmental Career Fair is an opportunity to explore careers in environmental and natural resources fields. The Environmental Career Fair features employers from the nonprofit, government and private sectors with career-level positions and internships. Questions about the career fair can be sent to envjobs@uw.edu. More information at UW: https://environment.uw.edu/students/career-opportunities/uw-environmental-career-fair/ 
Ocean Science Public Lecture: Argo - Ocean Robots Monitoring Earth's Energy Imbalance
Thursday, March 15, 2018
7:00 pm | Doors open at 6:30 pm
Shaw Centre for the Salish Sea | 9811 Seaport Place, Sidney BC| Seating is limited
Come listen to Dr. Gregory C. Johnson at this public lecture on the contributions of Argo, a revolutionary robotic global ocean observing system. Argo is improving observations o ocean warming and the role of the warming in Earth's climate. 
Archived Seminars:
Find video recordings of past seminars on our YouTube Channel and presentations and transcripts here. 
Have a Question, Comment or Suggestion?
We want to hear from you! 
Our goal is to provide you with information you can use. Please help us serve you better by sending us your thoughts.
Outreach Coordinator: Adi Hanein
adi.hanein@noaa.gov
206-526-6810