Outreach Events and Seminars
Interested in a TOUR of NOAA's Pacific Marine Environmental Lab?
Please contact PMEL's Outreach Coordinator, Adi Hanein, and fill out this tour request form. 
Upcoming Events:
Find the Pacific Marine Environmental Lab at these upcoming public events and seminars either on the calendar or the list below. 
EcoFOCI Fall Seminar Series
This seminar is part of NOAA's EcoFOCI bi-annual seminar series focused on the ecosystems of the North Pacific Ocean, Bering Sea and U.S. Arctic to improve understanding of ecosystem dynamics and applications of that understanding to the management of living marine resources. Visit the EcoFOCI webpage for more information (http://www.ecofoci.noaa.gov/).
NOAA's Pacific Marine Environmental Lab
7600 Sand Point Way NE, Building 3, Room 2104*
Remote Connection: https://global.gotomeeting.com/join/390878509
*Anyone wishing to attend in person, must email Adi Hanein (adi.hanein@noaa.gov) at least 24 hours in advance and bring a valid ID. 
December 6, 2017
Speaker: Alison L. Deary, Research Fisheries Biologist, NOAA Alaska Fisheries Science Center
Title: Feeding ecology in wild-caught early stage Sablefish
December 13, 2017
Speaker: Lauren Rogers, Research Fisheries Biologist, NOAA Alaska Fisheries Science Center
Title: Shifting spawn timing in Gulf of Alaska walleye Pollock
December 20, 2017
Speakers: Colleen Harpold, Research Fisheries Biologist, NOAA Alaska Fisheries Science Center and Carol Ladd, Physical Oceanographer, NOAA Pacific Marine Environmental Laboratory
Title: Bering Canyon: Physics, Flow and Zooplankton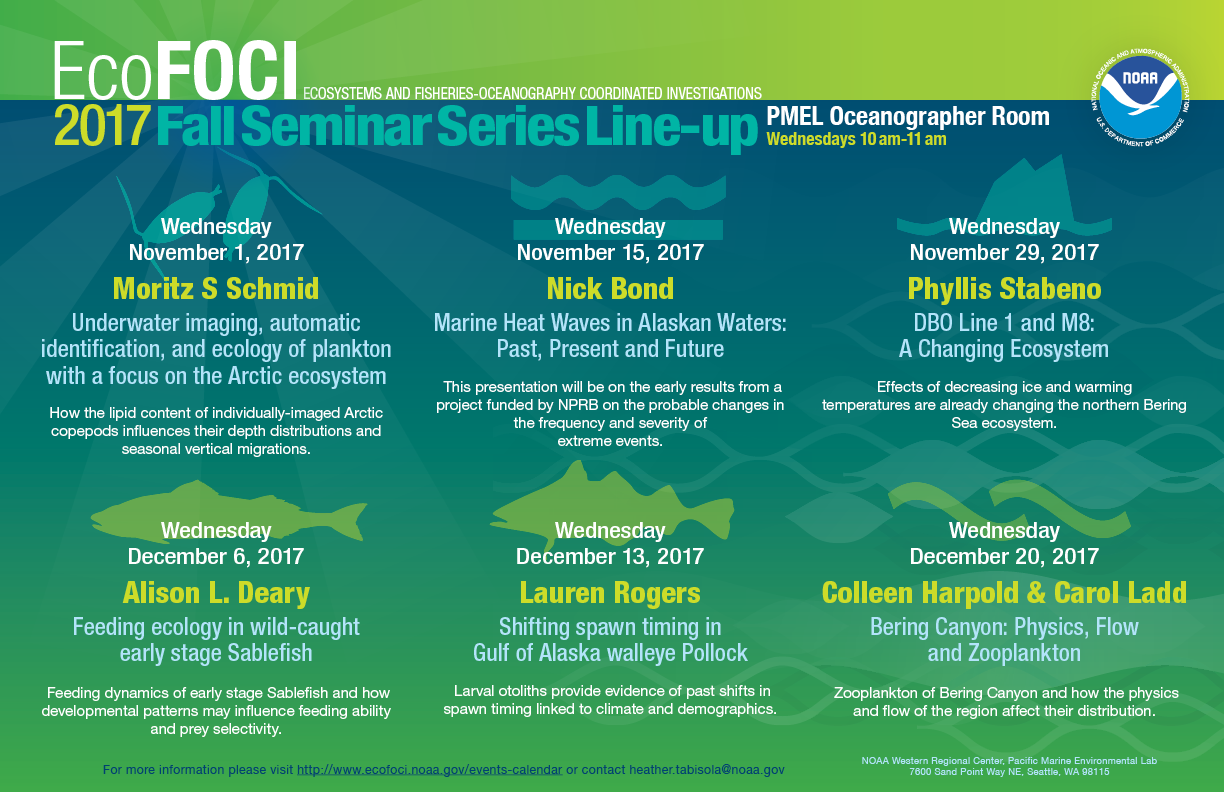 University of Washington Environmental Career Fair
Wednesday, February 21, 2018
11 am - 2 pm
Mary Gates Hall | 1851 Northeast Grant Lane, Seattle, WA 98105
Join NOAA at the career fair to learn more about opportunities with NOAA. Open to all UW students and alumni, the Environmental Career Fair is an opportunity to explore careers in environmental and natural resources fields. The Environmental Career Fair features employers from the nonprofit, government and private sectors with career-level positions and internships. Questions about the career fair can be sent to envjobs@uw.edu. More information at UW: https://environment.uw.edu/students/career-opportunities/uw-environmental-career-fair/ 
Archived Seminars:
Find video recordings of past seminars on our YouTube Channel and presentations and transcripts here. 
Have a Question, Comment or Suggestion?
We want to hear from you! 
Our goal is to provide you with information you can use. Please help us serve you better by sending us your thoughts.
Outreach Coordinator: Adi Hanein
adi.hanein@noaa.gov
206-526-6810