What's New
PMEL has released an experimental annual freeze-up projection for the Chukchi Sea continental shelf northwest of Icy Cape. The freeze onset  is projected to begin between 23 November and 6 December 2019. This is 28-41 days later than the long-term average (1981-2016). At freeze-up in 2019, sea-ice in the northwest of Icy Cape will consist entirely of thin, newly formed types (e.g. sheets and thin pancake), especially near the coast. For this projection, the onset metric is defined by sea-ice concentration reaching 30% as determined by passive microwave observations collected in the area around Icy Cape in the Chukchi Sea.
The data considered in this projection includes observations collected from autonomous ocean profiling floats, aircraft and satellite-derived visible imagery, and SST radiometry in 2016, 2017, 2018 and 2019. Persistence of sea ice was evaluated using historical ice concentration data from passive microwave satellites, provided by the National Snow and Ice Data Center (NSIDC). 
The purpose of this experiment is to develop an informed basis for advising a hypothetical maritime interest operating in the region and to identify conditions that cause sudden large departures (increase in risk). It also provides a result that can be evaluated against other methodologies.  Data from various technologies deployed during the Arctic Heat flight campaigns help to fill in data gaps in the Arctic and determine limiting factors in projecting sea ice freeze up in hopes of improving seasonal model forecasts.
Read the full projection and rationale here: https://www.pmel.noaa.gov/arctic-heat/projected-onset-freeze-chukchi-sea-continental-shelf-2019
Learn more about the work being done on the Arctic Heat page: https://www.pmel.noaa.gov/arctic-heat/about
PMEL in the News
The snowpack that irrigates Northwest crops has been measured extensively, studied deeply and politicized thoroughly. Yet, it won't easily reveal its past or the outlook for its future. Nick Bond is quoted. 
What was once an endless supply in the Pacific Northwest is now endangered. Millions of Chinook salmon are not surviving migration. Now, the shortage is causing officials to make some difficult decisions. As much as air or water, so much life in the Pacific Northwest depends on salmon. Over 130...
Listen to the Interview Dude's podcast episode with Dr. Greg Johnson. 
Feature Publication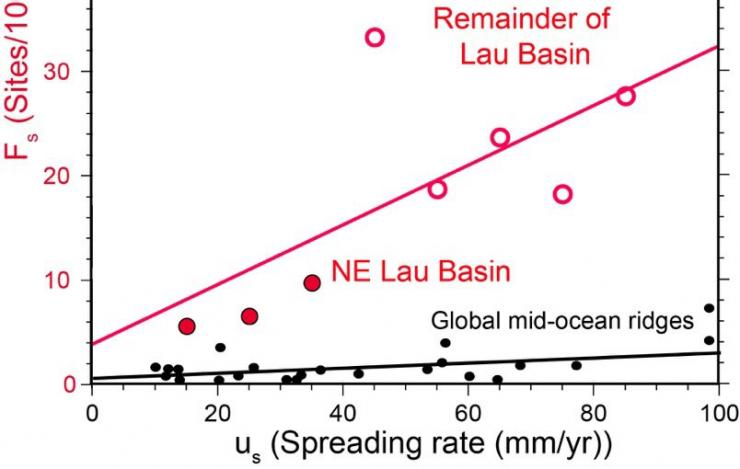 Relationship between the spreading rate of ridges and the spatial density (sites/100 km) of active hydrothermal sites on a given ridge segment. Higher spreading rates produce a greater magma supply to drive hydrothermal venting. In the Lau Basin, site production is ~10x higher than on other mid-ocean ridges. Red box in inset: NE Lau Basin.
Fluids in the Earth's crust are heated by magma rising to the seafloor where tectonic plates separate or collide. These discharging fluids cool hot rock, construct mineral deposits, nurture biological communities, alter deep-sea mixing and circulation patterns, and profoundly influence ocean chemistry and biology. Since the discovery of deep-sea hydrothermal vents in 1979, scientists have... more