What's New
At the end of September, PMEL and partners aboard the Kaiyo Maru #1 successfully completed the Kuroshio Extension Observatory (KEO) mooring turnaround cruise during typhoon season. Although the cruise faced delays due to typhoon Tapah, the KEO mooring was both deployed and recovered successfully in a single 24-hour period, and was ready to observe Super Typhoon Hagibis, which made landfall on October 12. In addition to the mooring, four JAMSTEC backscatters meters and an underwater camera were deployed.
KEO continues to demonstrate its dual-purpose of relaying real-time weather information and contributing to longer climatological records. The KEO mooring is also known as a storm mooring due to its prime location to observe the transition of tropical cyclones to extra-tropical storms and measure the exchanges of heat and moisture between the atmosphere and ocean during these storms. Partners such as the Japan Agency for Marine-Earth Science and Technology (JAMSTEC) use the KEO mooring site to conduct their own research and enhance the mooring with additional sensors.
Typhoons are common in the western North Pacific in the summer and fall. On average, a typhoon passes within 500 nautical miles of the KEO mooring every two weeks during the peak of the tropical cyclone season. Data from ocean climate stations moorings can be used to help improve weather and storm forecasts, inform climate projections, and verify satellite products and models. The Kuroshio Extension current carries warm water into the North Pacific and is a region where the ocean generally loses heat to the atmosphere. The exchange of heat and moisture into the atmosphere is an important factor in the development of storms over the north Pacific before they reach the United States.
PMEL in the News
A vast region of unusually warm water has formed in the northeastern Pacific Ocean, and scientists are worried that it could devastate sea life in the area and fuel the formation of harmful algal blooms...
University of Maryland (UMD) scientists have carried out a novel statistical analysis to determine for the first time a global picture of how the ocean helps predict the low-level atmosphere and vice versa. Samantha Wills is quoted. 
Scientists, meteorologists and ski resort employees all agree: Climate change could have devastating effects on the winter sports industry. Nick Bond is quoted.
Feature Publication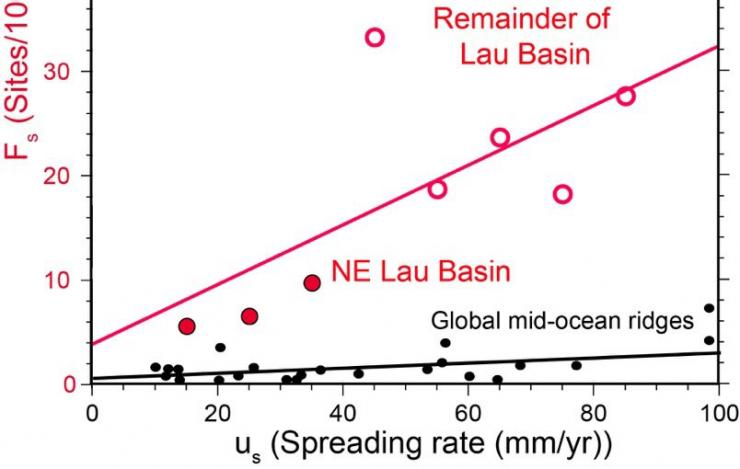 Relationship between the spreading rate of ridges and the spatial density (sites/100 km) of active hydrothermal sites on a given ridge segment. Higher spreading rates produce a greater magma supply to drive hydrothermal venting. In the Lau Basin, site production is ~10x higher than on other mid-ocean ridges. Red box in inset: NE Lau Basin.
Fluids in the Earth's crust are heated by magma rising to the seafloor where tectonic plates separate or collide. These discharging fluids cool hot rock, construct mineral deposits, nurture biological communities, alter deep-sea mixing and circulation patterns, and profoundly influence ocean chemistry and biology. Since the discovery of deep-sea hydrothermal vents in 1979, scientists have... more