What's New
At the Ocean Sciences Meeting this week, Dr. Joe Haxel with Oregon State University's Cooperative Institute for Marine Resources Studies and PMEL's Acoustic Program presented findings from acoustic recordings from a series of drifting hydrophone deployments off of the Oregon coast from May-October 2016. The hydrophone recorded loud sounds characteristic of snapping shrimp, which are typically found in warm, shallow subtropical waters all over the world, but are undocumented in the colder coastal waters off the coast of the Pacific Northwest, until now. Analysis of the recordings provide estimates of the number of snapping shrimp along the central and southern Oregon coasts and their activity levels.
In addition to discovering the presence of snapping shrimp, the researchers found eastern Pacific gray whales were often foraging near the rocky reefs the shrimp inhabit. Gray whales don't eat snapping shrimp, but they do eat other types of prey usually found near the rocky reefs, in particular mysids. Joe Haxel and his colleagues suspect the loud snaps and crackling din of the snapping shrimp could be an acoustic cue to direct whales to areas of the ocean where their typical food might be plentiful.
The discovery is part of a larger effort by researchers to better understand the acoustic environment of Pacific Northwest coastal waters. By deploying the hydrophones, they hope to characterize the volume and types of sounds animals hear in Pacific Northwest waters. The new research shows snapping shrimp are an important contributor to the coastal soundscape, Haxel said.
Read the press release from AGU here.
PMEL in the News
2017 was only the second-warmest year on record, according to NASA. But when it comes to the ocean, temperatures have never been warmer. Greg Johnson is quoted. 
On July 31, 2012, Maggie de Grauw looked out the window of her flight back to New Zealand after a holiday in Samoa and glimpsed a mysterious mass floating below. That mass turned out to be a raft of lightweight pumice rock, the product of an erupting underwater volcano called Havre. The 2012...
During the Civil War, many meteorologists on land stopped keeping records.  But officers on U.S. Navy ships offshore — including those blockading Charleston — didn't. Kevin Wood is mentioned. 
Feature Publication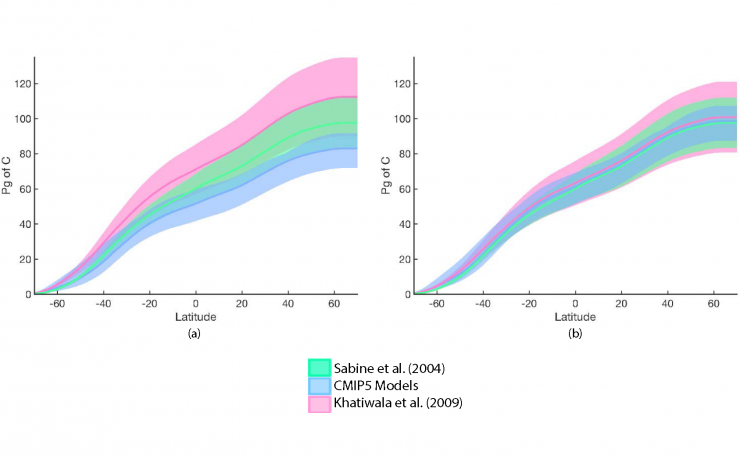 1995 oceanic anthropogenic carbon content. Integrated with latitude for observational estimates of Khatiwala et al. (2009) in pink, Sabine et al. (2004) in green, and the CMIP5 models in blue, (a) unadjusted, and (b) adjusted relative to 1791 start date. The value at 70°N is the total carbon uptake in the year 1995.
Since the start of the Industrial Revolution, human activity has caused atmospheric CO2 levels to rise. During this time, the ocean has absorbed roughly one third of emitted anthropogenic (human-derived) carbon, so ocean carbon uptake therefore influences how much of this important greenhouse gas remains in the atmosphere. Accurately measuring and simulating ocean carbon storage is important for assessing the current environmental conditions and projecting future climates.
... more