What's New
PMEL has released "The Ocean: Earth's CO2 Sponge," the latest video in the PMEL at Work short video series. The PMEL at Work series highlights ongoing research activities and projects supporting NOAA's mission to understand changes in the global ocean and its impact on climate, weather and ecosystems.
In this video, Adrienne Sutton of PMEL's Ocean Carbon Program, and Sophie Chu, formerly of the NOAA Cooperative Institute for Climate, Ocean, and Ecosystem Studies (CICOES) at the University of Washington, highlight the exchange of carbon between the ocean and atmosphere and the ocean's role in absorbing human carbon emissions, as well as how the ocean is impacted, and effects on marine ecosystems, climate and weather. They give a brief overview of the evolution of data collection practices—from the placement of CO2 instruments on cargo ships and research vessels starting in the 1960s, to sensors being deployed on buoys in the 1990s, to today's innovative use of uncrewed surface vehicles (USVs). USVs have proved to be particularly effective at filling observational gaps in rough conditions, such as those of the Southern Ocean , and providing new insights into the role storms play in air-sea carbon exchange.
The Ocean Carbon Group at PMEL works to advance our scientific understanding of the ocean carbon cycle and how it is changing over time. They do so by observing the evolving state of the ocean carbon chemistry with high-quality measurements on ships and autonomous platforms, studying the processes controlling the role of the ocean in the global carbon cycle, and investigating how rising atmospheric carbon dioxide and climate change affect the chemistry of the oceans and its marine ecosystems.
Check out this new video on NOAA PMEL's YouTube Channel and more work by PMEL scientists and engineers on the PMEL at Work playlist.
PMEL in the News
An extended episode of the global climate pattern known as La Niña is over, and scientists suspect a "rapid evolution" to El Niño — known for accelerating planetary warming and inducing extreme weather — could occur this summer. Mike McPhaden is quoted. 
A group of international experts, including representatives from NOAA, simulated a mega tsunami that is thought to have caused a global mass extinction event that also wiped out the dinosaurs. Experts believe that the asteroid strike on Earth 66 million years ago caused a mega tsunami. Modeling...
From tsunamis to vibrational waves to lightning storms, the Hunga Tonga–Hunga Ha'apai explosion is still surprising researchers with superlative discoveries. Sharon Walker is quoted. 
Feature Publication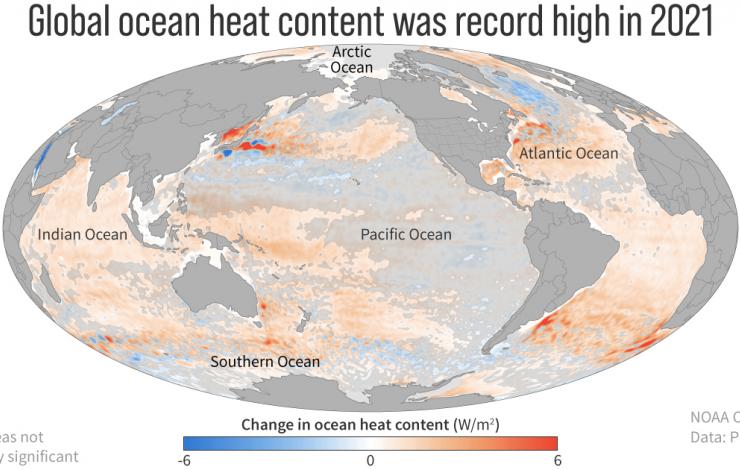 Most of the excess energy being trapped in the Earth system by increasing amounts of greenhouse gases is stored in the ocean. This map shows where the global ocean gained (orange) or lost (blue) energy between 1993 and 2021. Places where the trend is small relative to year-to-year variability (not statistically significant) are shaded with gray. NOAA Climate.gov map, based on data provided by John Lyman.