What's New
The University of Washington and NOAA Center for Tsunami Research at PMEL recently conducted a study for Department of Defense (DOD) overseas sites to ensure compliance of tsunami inundation modeling with recently established standards and guidelines by the American Society for Civil Engineers (ASCE). This update helps assess tsunami hazard at DOD facilities and identifies compliant design parameters for construction in tsunami hazard zones.
An extensive modeling effort for 23 Navy sites in the Pacific established detailed tsunami hazard zone maps in coastal areas and provided modeling data for building design guidance for tsunami-resistant buildings within the hazard zones.
No design criteria had existed in U.S. to address tsunami loads and effects on buildings before 2016. This work followed the new and first guidance from the American Society for Civil Engineers (ASCE 7-16)established in 2016, for constructions in tsunami hazard zones. The guidance requires establishing the hazard maps for the 2,500-year tsunami event, consistent with the National Seismic Hazard Maps, using probabilistic methods. This approach required intensive modeling efforts including hundreds of simulations with very high-resolution models for sources from areas prone to earthquakes that may trigger tsunamis, including the Ryukyu, Japan-Kuril, Mariana and Alaska-Aleutian trenches.
This project is funded by Navy Facilities and the National Institute of Building Science.
PMEL in the News
Robots that are lowered deep into the ocean and read temperature and salinity show that oceans absorb about 93 percent of Earth's warming. Greg Johnson is featured. 
Close to the Mariana Trench and nearly three miles below sea level, scientists found evidence of an underwater eruption that was only months old. Bill Chadwick is quoted. 
It's almost as if the Earth knows that it is almost Halloween. A scary oceanic and atmospheric phenomenon, christened "The Blob" by Washington climatologist Nick Bond some five years ago, has returned. Nick Bond is quoted. 
Feature Publication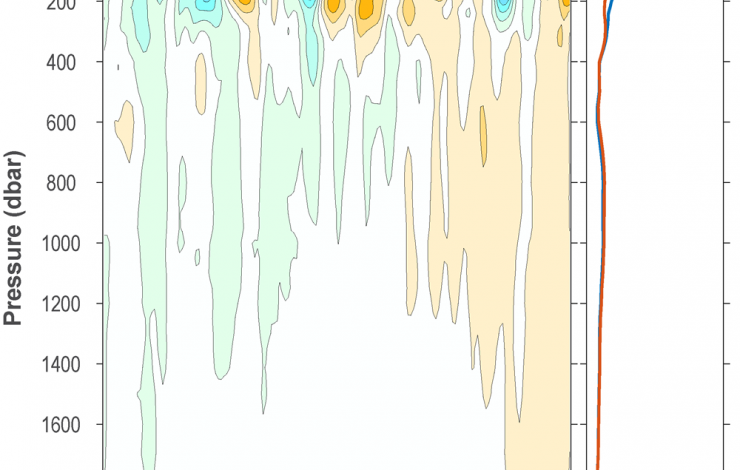 Ocean temperature anomalies. (a) Near-global integrals of ocean temperature anomalies relative to the record-length average seasonal cycle updated from Roemmich and Gilson (2009). (b) Linear trend of temperature anomalies (orange line), and trend with a Niño3.4 regression removed (blue line) following Johnson and Birnbaum (2017).
NOAA has led, for 28 years, a team of international scientists in issuing annual reports on the state of the climate focusing on the year just passed. The State of the Climate in 2017 report was published as a supplement to Bulletin of the American Meteorological Society in August 2018. Nine Federal, JISAO (Joint Institute for the Study of the Atmosphere and Ocean, University of Washington),... more