What's New
NOAA and Washington Sea Grant are embarking on the sixteenth year of NOAA Science Camp in Seattle, WA. The camp offers two, one-week middle school camps, a two-week junior leadership program for high school students, and a three-day remotely operated vehicle (ROV) mini session. PMEL volunteers interact with approximately 90 middle school and high school students through hands on learning activities to simulate some of the oceanographic work done at PMEL.
As part of NOAA Science Camp, PMEL helps middle school campers learn more about ocean circulation, density, plankton, dissolved oxygen, data collection, water quality and ecosystem health. Campers get to try out collecting data using a Niskin bottle, plankton net tow, Secchi disk, Van Veen Grab, and a glass syringe for dissolved gas analysis. After each station, students walk away excited about what they've collected. Later in the week, middle school campers are presented with a science mystery to solve. They visit several NOAA offices to find out more about various aspect of the scenario and then apply what they learned to test their hypotheses. Campers present their findings and conclusions on the last day of camp each week and are evaluated by a scientist representative of each office.
PMEL engineers and technicians met with the junior leaders to share expertise on buoy design and development as the high school students developed and deployed through own buoys in Lake Washington. 
More than 10 NOAA offices participate in the event and have their scientists and staff interact directly with camp participants to demonstrate how NOAA research addresses environmental issues on both local and international scales.
PMEL in the News
Feature Publication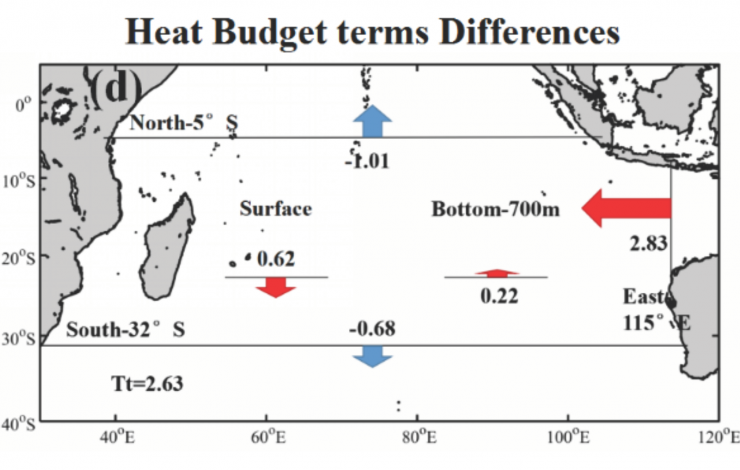 Differences in the heat balance terms in the upper 700 m for the Southern Indian Ocean for two periods: P2 (1998–2015) minus P1 (1992–1998).

Red arrows: an increase in heat transport into the Southern Indian Ocean in P2 relative to P1; blue arrows: a decrease in heat transport into of the Southern Indian Ocean in P2 relative to P1. Units are 10-2 °C per year (approx. 0.02 petawatts of heat). Surface: heat exchanges across the air-sea interface; Bottom-700 m: heat exchanges across 700 m.
The first decade of the 21st century witnessed a slowdown in the rise of global surface atmospheric temperatures, referred to as the global warming hiatus. During this time, the tropical Pacific Ocean absorbed more heat from the atmosphere than in previous decades, associated with unusually strong trade winds and a cold phase of the Pacific Decadal Oscillation. However, there is no evidence that the tropical Pacific heat content increased during this time. Where did the excess heat go?
...
more