What's New
Online Registration for the 2018 NOAA Science Camp is now open! NOAA Science Camp is held at the NOAA Campus in Seattle, WA. Middle and high school students will have a chance to participate in hands-on science activities and learn more about the diverse range of opportunities and research conducted by NOAA scientists. Three programs are offered: Middle School Science Camp, High School Junior Leadership Program and a Remotely Operated Vehicle Mini Session.  The camps will run at various times from July 9-25.
PMEL scientists (NOAA and JISAO) lead activities relating to engineering and oceanography, including how scientists conduct their research when they go to sea, how scientists work with engineers to solve complex marine questions, how currents and trace chemicals move throughout the ocean, and even how buoys help predict large-scale climate events such as Tsunamis.
The middle school camp offers two, one-week sessions from July 9-13 and July 16-20, 2018. The Junior Leadership Program is a two-week program (July 9-20) and is open to students entering grades 9-12 in the fall of 2018. Applications are due on April 15, 2018, and require two written references (for new participants).
NOAA Science Camp has partnered again with Atlantis STEAM to provide an exciting addition to the normal camp. In the three-day mini-session, campers will get to design, build, and drive their own Remotely Operated Vehicles (ROVs).
Learn more on the Washington Sea Grant site and register for NOAA Science Camp here.
PMEL in the News
Two 7-meter-long sailboats are set to return next month to California, after nearly 8 months tacking across the Pacific Ocean. Puttering along at half-speed, they will be heavy with barnacles and other growth. No captains will be at their helms. Meghan Cronin is quoted. 
During the Arctic winter, when the sun hides from October to March, the average temperature in the frozen north typically hovers around a bone-chilling minus 4 degrees Fahrenheit (minus 20 degrees Celsius). But this year, the Arctic is experiencing a highly unusual heat wave. Jim Overland is...
As the flagship of the Alaska Marine Highway System for over 40 years, the MV Columbia is best known for its capacity to carry up to 499 passengers, plus vehicles on its route from Bellingham, Washington, to destinations in Alaska's Inside Passage. Geoff Lebon is mentioned. 
Feature Publication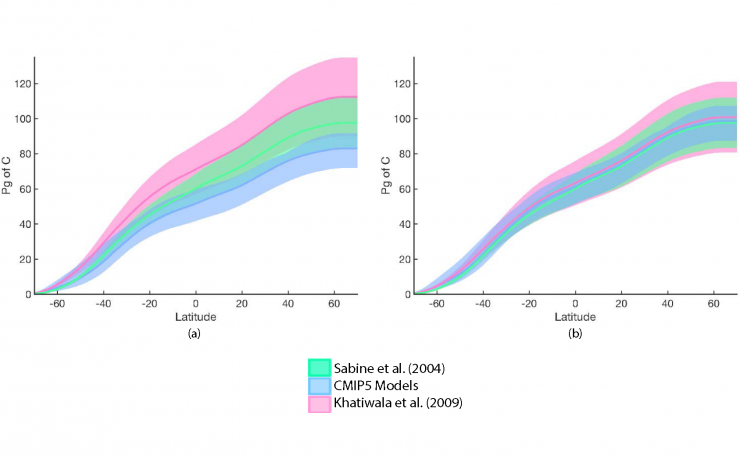 1995 oceanic anthropogenic carbon content. Integrated with latitude for observational estimates of Khatiwala et al. (2009) in pink, Sabine et al. (2004) in green, and the CMIP5 models in blue, (a) unadjusted, and (b) adjusted relative to 1791 start date. The value at 70°N is the total carbon uptake in the year 1995.
Since the start of the Industrial Revolution, human activity has caused atmospheric CO2 levels to rise. During this time, the ocean has absorbed roughly one third of emitted anthropogenic (human-derived) carbon, so ocean carbon uptake therefore influences how much of this important greenhouse gas remains in the atmosphere. Accurately measuring and simulating ocean carbon storage is important for assessing the current environmental conditions and projecting future climates.
... more