Baker, E.T., S.L. Walker, G.J. Massoth, and J.A. Resing (2019): The NE Lau Basin: Widespread and abundant hydrothermal venting in the back-arc region behind a superfast subduction zone. Front. Mar. Sci., 6, 382, Pacific Deep-Sea Discoveries: Geological and Biological Exploration, Patterns, and Processes. doi: 10.3389/fmars.2019.00382
Fluids in the Earth's crust are heated by magma rising to the seafloor where tectonic plates separate or collide.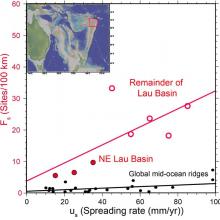 Relationship between the spreading rate of ridges and the spatial density (sites/100 km) of active hydrothermal sites on a given ridge segment. Higher spreading rates produce a greater magma supply to drive hydrothermal venting. In the Lau Basin, site production is ~10x higher than on other mid-ocean ridges. Red box in inset: NE Lau Basin.