Baker, E.T., S.L. Walker, W.W. Chadwick, Jr., D.A. Butterfield, N.J. Buck, and J.A. Resing (2019): Post-eruption enhancement of hydrothermal activity: A 33-year, multi-eruption time series at Axial Seamount (Juan de Fuca Ridge). Geochem. Geophys. Geosyst., 20(2), 814−828, https://doi.org/10.1029/2018GC007802.
About 80% of volcanic activity on Earth occurs on the deep seafloor of the global ocean.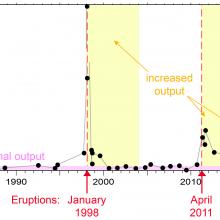 Estimates of hydrothermal heat flux (MW) for the 33-year time series (black dots; note break on the vertical axis). Pink band at bottom shows "normal" heat flux averaging ~15 MW. Yellow bands show intervals of increased heat flux following eruptions (red triangles and dashed lines), which reached values as high as 1200 MW. About two-thirds of the total heat flux occurred during the 10 years shown by the yellow bands.