Meet PMEL's Summer 2019 Undergraduates
This summer, PMEL is hosting 7 undergraduate students through NOAA's Ernest F. Hollings Scholarship program, the National Science Foundations' Research Experience for Undergraduates at Oregon State University, and the University of Washington's Joint Institute for the Study of the Atmosphere and Ocean (JISAO) internship program. They are working across multiple groups at PMEL including acoustics, climate-weather interface, ocean carbon, genetics and genomics, EcoFOCI and ocean climate stations.
Isabelle Chan
Isabelle was born in Mission Viejo, California and is currently a senior at the University of North Carolina Wilmington. She is majoring in Environmental Science with an emphasis in conservation. She also has minors in Biology, Nonprofit Management and Leadership, and Geospatial Technologies. Isabelle is a JISAO intern working on an ocean acidification project with Dr. Sophie Chu at the Pacific Marine Environmental Lab. The project focuses on analyzing and inputting a band broadening correction into LICOR datasets to decrease the degree of uncertainty between water vapor and carbon dioxide measurements.
This project is exciting to me because I get to analyze data from multiple locations around the world! I found out about JISAO by searching on the web for summer REUs. After completing this internship, I will be more capable to conduct other research projects, understand the processes of ocean acidification and carbon dioxide relations with the ocean, and I will have more knowledge on the LICOR-820 instrument used to provide CO2 data. I would definitely recommend a NOAA internship to other students who need to expand their research skillset and share common goals with NOAA. To be a competitive candidate, I recommend reading some papers published by the NOAA researchers you want to work with. Also, it wouldn't hurt to familiarize yourself with NOAA's organizational chart!
I hope to go to graduate school for international climate change and management. My future career plans consist of advocating for environmental justice and working with government, non-profit and for-profit sectors to promote public education, policy change, and research while also implementing global climate change solutions. I would like to eventually pursue a PhD and become a professor towards the end of my career. In my free time, I love to travel and hike!
Harrison Knapp
Harrison is a Hollings Scholar working with Dr. Chidong Zhang at the Pacific Marine Environmental Laboratory. He is currently a student at the University of Southern California pursuing both a B.S. in GeoDesign and a B.A. in Earth Sciences.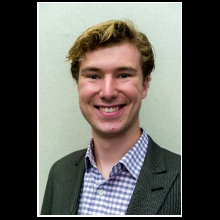 At school, I am actively working on two different research projects that look at the effects of artificial night sky brightness on National Park Service sites and along the Southern California coast. My work this summer will focus on assessing the influence of the Madden-Julian Oscillation on snowpack in the Western United States. Outside of the academic setting, you can find me storming the beach for a dawn patrol surf or hiking in the nearest state/national park.
Ellen Lee
Ellie is a JISAO intern, majoring in Mathematics at Bryn Mawr College in Pennsylvania, working with Dr. Carol Stepien to analyze plankton and eDNA samples collected from the Salish Sea. Ellie is originally from San Jose, California.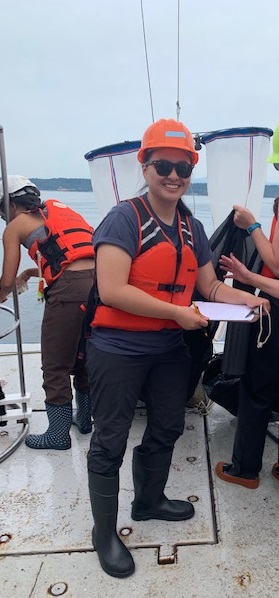 My project focuses on measuring and analyzing the biodiversity of the Puget Sound using eDNA that is extracted from seawater. Coming from a quantitative background, my focus is on the data analysis and comparisons between relative abundance of species at different sampling sites around the Puget Sound. Recently, I also got the opportunity to work on the Washington Ocean Acidification Center's July cruise, where I had my first experience sampling and being on a research vessel. While onboard, I assisted with sampling and had the opportunity to collect the water samples for eDNA and help with plankton tows. Being able to conduct both field and lab work, collect data, and analyze data has given me the opportunity to work at every stage of publishing a paper. Getting to work with an amazing team and still having the opportunity to work independently makes this internship one that is perfect for both learning and carrying out new research. This puts me right on track for the future, since I am planning on applying to graduate school in Oceanography in the fall. When I am not in lab, I love photography, cooking, and being with family. 
Leo MacLeod
Leo is going into his second year at the University of Washington  pursuing a Bachelor of Science with majors in both Marine Biology and Oceanography. Through the Hollings Preparation Program, he is working with Dr. Carol Ladd in the Ecosystem Fisheries Coordinated Investigations program. 
Samuel Mogen
Sam is a Hollings Scholar working with Drs. Darren Pilcher and Jessica Cross at the Pacific Marine Environmental Lab. He is studying environmental science and global studies at the University of Virginia. His work this summer is based around exploring oxygen cycling in the Bering Sea using the Bering 10K model.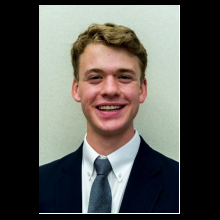 Madeline Talebi
Madeline is from Orange County, California and is going in to her year of college at the University of California, Irvine where she is studying chemical engineering.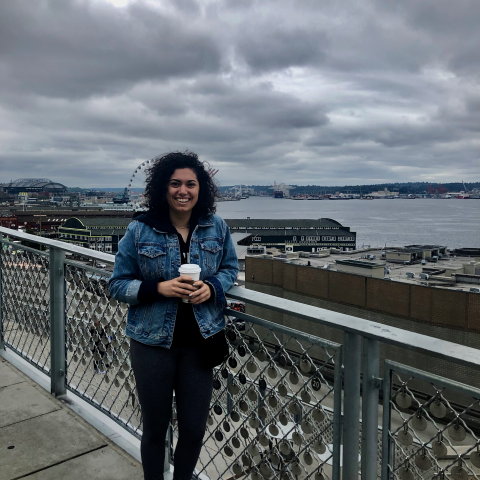 My project focuses on finding and interpreting archived meteorological data (i.e. wind speed and direction, air temperature and humidity, barometric pressure, rain accumulation, etc.) from the Station Papa Ocean Weather Ship (OWS) which started in December 1949 and ended in August 1981. I am most excited about completing an analytical analysis to see how the meteorological data has shifted over the specified time period. I hope to take away some quality data analysis skills. Also, I am beginning to realize that it is okay to ask multiple sources for help, when help is needed, but only after all possible routes have been considered.
I would recommend a NOAA internship to other students because it has taught me so much about working in a big government research sector. I've also met many different professionals who come from various educational backgrounds and I've appreciated any and all of the advice that I have received. In order to be a good candidate, I would encourage others to diversify his or her educational "resume." It's okay if your path isn't clear and if you've decided to change directions multiple times. If anything, I would encourage others to use that as leverage because diversity is always needed and encouraged in school, the work place, or just life in general.
My future career goals involve completing my master's and PhD in chemical engineering with a thesis project that emphasizes on a renewable energy and/or environmental application. With my doctorate, I hope to become a professor at a university and/or a research scientist.
In my free time, I enjoy running, biking, working out, watching movies, going to coffee shops/restaurants, and reading.