What's New
The Axial 2020 research cruise on R/V Thompson departed Newport, Oregon, midday on September 1 with ROV Jason and AUV Sentry on board
. The 
Axial 2020 
cruise will work for the next 3 weeks at Axial Seamount, which is an active submarine volcano with a summit depth of ~ 1500 m (almost a mile deep), located ~260 miles offshore on the Juan de Fuca Ridge.  This cruise will consist of two separate NSF-funded projects: (1) one is to monitor inflation of the volcano by making pressure measurements with ROV Jason at seafloor benchmarks, and to conduct repeat bathymetric mapping with AUV Sentry as an independent way to measure seafloor uplift.  (2) The other project is to deploy and recover new seafloor instruments designed to measure seafloor compliance (how "squishy" the seafloor is over the volcano) during ROV Jason dives.  Between ROV Jason dives, we will deploy one long (1200 m) hydrophone mooring, recover and re-deploy four short (15 m) Bottom Pressure Recorder (BPR) moorings, and we will also make ~8 CTD casts to monitor hydrothermal plumes and collect water samples for e-DNA analysis.  We will be streaming live video from ROV Jason during dives and from the deck of R/V Thompson in between dives

 at these URLs:
Research Sites

  EOI Videos
Honors
NOAA Distinguished Career Award 2019: EOI's Robert Embley  
NOAA's Team Player of the Month: EOI's Susan Merle! See NOAA-PMEL's awards site. 
Feature Publication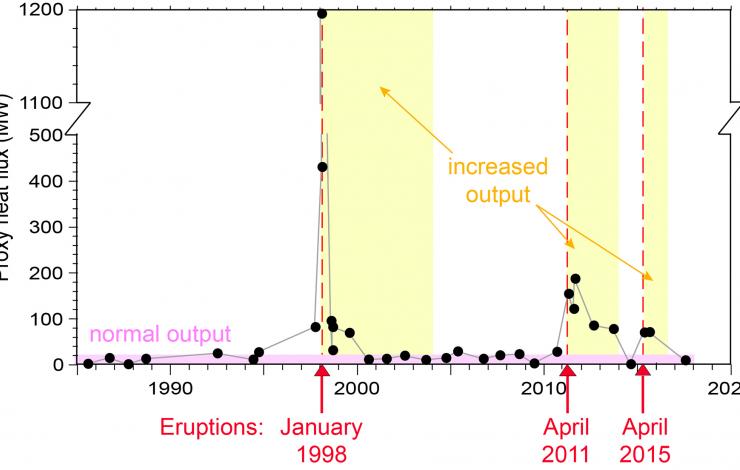 Estimates of hydrothermal heat flux (MW) for the 33-year time series (black dots; note break on the vertical axis). Pink band at bottom shows "normal" heat flux averaging ~15 MW. Yellow bands show intervals of increased heat flux following eruptions (red triangles and dashed lines), which reached values as high as 1200 MW. About two-thirds of the total heat flux occurred during the 10 years shown by the yellow bands.
About 80% of volcanic activity on Earth occurs on the deep seafloor of the global ocean. These eruptions are concentrated where the Earth's tectonic plates collide or separate, accelerating the transfer of heat, chemicals, and microbes from the crust to the ocean through hydrothermal venting (the discharge of high-temperature fluids heated within the Earth's crust) from the seafloor. A primary... more