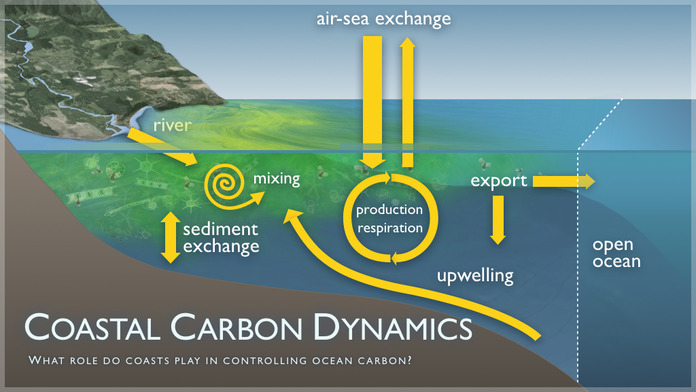 Dynamic and Complex Carbon Cycles in Coastal Oceans
Coastal oceans are sites of active biogeochemical cycling, as terrestrial, atmospheric, and marine carbon cycles interact in this realm. Important processes that affect carbon cycle fluxes in the coastal ocean include upwelling, river influxes, air-sea gas exchange, production, respiration, sediment burial, export, and sea-ice dynamics. The magnitude and variability of many carbon fluxes are accordingly much higher in coastal oceans than in open ocean environments. Having high-quality observations of carbon stocks and fluxes in the coastal environment is important both for understanding coastal ocean carbon balance and for reconciling continent-scale carbon budgets.
Because coastal oceans are in such close proximity to human population centers, they experience a variety of human impacts that may affect carbon exchange across air-sea-land boundaries and transformations of carbon within coastal oceans. These impacts include climate change, ocean acidification, pollution, nutrient enrichment, overfishing, and habitat destruction. The continental margins are also home to diverse and productive coastal ecosystems and fisheries that may be affected by these human impacts and changing coastal carbon cycles.
Despite the ecological, biological, and economic importance of coastal oceans, the magnitude and variability of many of the key coastal carbon fluxes are poorly quantified in most regions relative to terrestrial and open ocean carbon fluxes.
MISSION STATEMENT
The PMEL carbon group is committed to documenting the magnitude and spatial and temporal variability of carbon fluxes in coastal oceans and to determine which processes control these fluxes. Our goal is to better understand linkages between the coastal oceans and the open oceans, atmosphere, and terrestrial environments, as well as how human activities are altering coastal ocean fluxes and processes.
The PMEL carbon group is involved in several research projects to help us better understand coastal carbon dynamics. We are also interested in characterizing the extent and impacts of ocean acidification on our coastal ecosystems.

Associated Stories