PMEL

carries out interdisciplinary scientific investigations in oceanography and atmospheric science.
Current PMEL programs focus on open ocean observations in support of long-term monitoring and prediction of the ocean environment on time scales from minutes to decades.
What's New
PMEL Participating in NASA Project with New Mooring Technology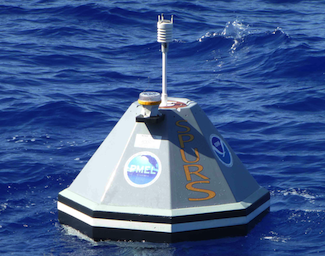 One of two SPURS moorings deployed in the Atlantic Ocean. The Prawler device is located below the surface on the mooring line.
PMEL's Dr. Billy Kessler is currently participating in NASA's Salinity Processes in the Upper Ocean Regional Study (SPURS) in the Atlantic Ocean. SPURS addresses the role of the ocean in the global water cycle. PMEL engineers have contributed to this study by developing and deploying two Prawler (Profiler + Crawler) equipped moorings. The Prawler device, which is attached to the mooring line, uses wave-powered energy to crawl up the line, taking temperature/salinity measurements along the way.
You can read more about how the Prawler works and view the data in near real time on PMEL's Engineering Development Division website.
What's New Archive- PMEL Scientist Receives 2013 Georg Wüst Prize
FEATURED
Climate:


El Niño and La Niña


Ocean Acidification


Argo Ocean Floats
Ecosystem:


Fisheries Oceanography


Underwater Volcanoes


Arctic
Weather and Water:


Tsunami


Local Pages:

OAR Hot Items

PMEL Hot Items

PMEL Info

PMEL IT Info

CNSD Info Desk