What's New
PMEL scientists from the Earth-Ocean Interactions Program will be remotely joining the NOAA Ship Okeanos Explorer on its deep-water exploration of the Mariana region via "telepresence" from Newport, OR and Seattle, WA. PMEL will lead three remotely operated vehicle (ROV) dives tentatively scheduled for this weekend. These dives will explore three hydrothermal vent sites that were recently discovered on an R/V Falkor research cruise conducted in fall 2015. This region is home to the deepest parts of the ocean, the Mariana Trench, and hydrothermal vents with unique marine ecosystems in diverse geologic settings. 
The main goal of the expedition is to collect baseline information of unknown and poorly known areas in and around the Mariana region to support science and management needs, and to understand the diversity and distribution of deep-water habitats. The expedition continues through July 10.  
Follow along live and learn more about the cruise on the NOAA Ocean Exploration Program web site.
PMEL in the News
The historic El Niño event currently shaking up Earth's weather rose like a phoenix from the hot remains of a failed 2014 El Niño, new research suggests.
HUNDREDS of marine scientists from around the world are gathered in Hobart this week for the 4th International Oceans in High-CO2 World Symposium to discuss one of our planet's most serious yet still vastly understudied threats to the ocean's health, biodiversity and food security.
Feature Publication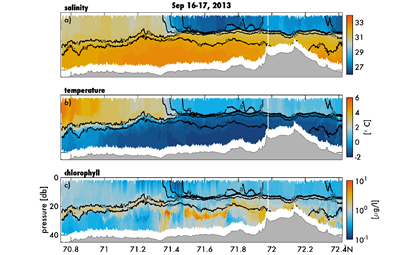 Studying where some of the smallest organisms in the ocean are located can be difficult when they are found beneath the surface. In the late summer and early fall, phytoplankton in the Chukchi Sea are usually found in thin, patchy layers that can only be observed using shipboard surveys. In a collaborative effort between PMEL's EcoFOCI group and the University of Alaska Fairbanks, scientists were able to map the distribution of subsurface phytoplankton using a novel high-resolution towed... more