What's New
A recent perspective piece in Nature Climate Change by Jim Overland at PMEL and other scientists discusses the latest research on whether Arctic warming is fueling more severe winter weather in the mid-latitudes, the temperate zone of the Earth between the tropics and the Arctic, and the part of the United States where most Americans live.
Research conducted by a diverse, international group of scientists agree for the first time that the pattern of severe cold winters in the mid-latitudes is primarily based on the state of the jet stream, which is naturally variable. They also emphasize community coordination for both scientific progress and communication to a broader public. The group of researchers also agreed that there is no simple cause-and-effect relationship between a warming Arctic and an emerging pattern of severe winter weather in the mid-latitudes. It's much more complicated, with different connections in different regions and under different background climate conditions.
Read the perspective piece here as well a Q&A with Jim Overland here. 
PMEL in the News
Scientists have agreed for the first time that recent severe cold winter weather in the UK and US may have been influenced by climate change in the Arctic, according to a new study. The research, carried out by an international team of scientists including the University of Sheffield, has found...
NOAA Research today announced $6 million in funding to get scientific and technological advances from the government and academia to NOAA's National Weather Service (NWS) more rapidly, improving severe weather and water hazards forecasting.
Feature Publication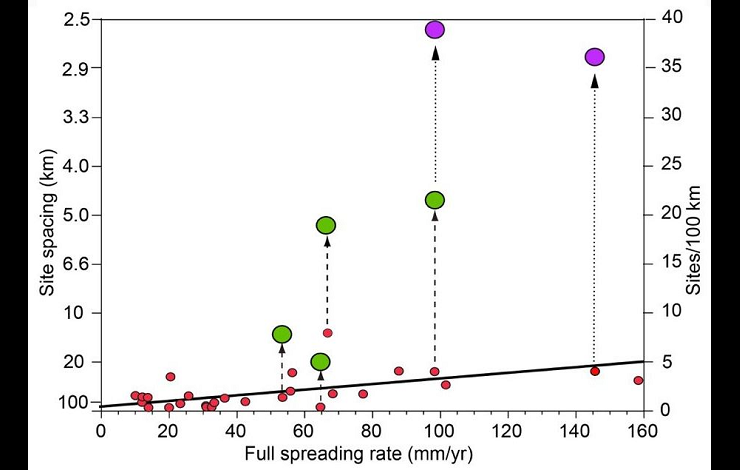 Scatter plot of site spacing (left axis) and site spatial frequency (right axis) vs. ridge spreading rate for 27 ridge sections using data from the InterRidge database (red dots). Green symbols show new survey results from four of these sections; purple symbols show corroborating results from prior intensive camera surveys. Heavy black line is a linear regression between site spacing and spreading rate for the existing database (red dots).
The heat from submarine volcanoes produces hundreds of hydrothermal hot springs along the mid-ocean ridge crest. These springs promote the exchange of heat and chemicals between the Earth's crust and the ocean, providing energy to support ecosystems fueled by chemical reactions and creating exploitable deposits of mineral and bio-active resources. A new study by Baker et al. indicates that hot springs are far more common than previously thought, a discovery with crucial implications for... more